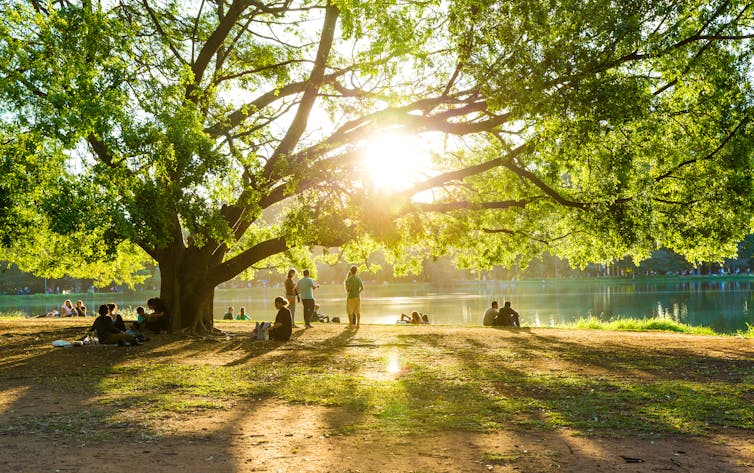 Julian Dobson, University of Sheffield
Urban green spaces – including parks, woodlands, riverbanks, and gardens – are an essential part of a web of physical and mental well-being. They provide spaces to socialise and opportunities to connect with the natural world. They are restorative enclaves in stressful cities.
The UK government's first strategy on loneliness, recently launched, recognises the importance of green spaces in supporting this web of connections. But England's urban natural environment is increasingly at risk, jeopardising the ambitions of the loneliness strategy from the outset. Read more…
Camilla Allen
In late September I was standing at Inverness station two hours before I was meant to be there. A pause which afforded a moment of reflection on the rush of the preceding week: writing, starting teaching, going to talks, delivering a lecture… It had been busy, and suddenly I was on the cusp of something different and unknown: a week volunteering for Trees for Life in the Highlands of Scotland, working to restore the Caledonian Forest. But was a week in the wilds really a good idea, considering that I am aiming to have my thesis written by Christmas and done and dusted early next year, ready for submission? One might think that it all was a bit of a distraction from the major task at hand… that it might even *gasp* be considered a holiday. Read more…
Peter Neal, landscape consultant and Fellow of the Landscape Institute came to the Department to lead two informative sessions on the challenges facing landscape managers today. Peter's talk took us through the changes over generations in how we manage our parks. He showed how closely some parks still replicate park management practices that Edwardian park keepers in straw boaters were doing to sustain manicured lawns that were not to be walked on (keep off the grass!) and bedding areas.